You are having plan of your wedding, there are lots of things that you need to take into account on your own. Each woman wants to have a dreamed and perfect wedding party, so they want to everything is taken into consideration. However, most brides or brides to be will pay more attention to their wedding dresses; the result is that they will ignore their hairstyles. When you are not satisfied with your bridal gowns, pick out ideal wedding hairstyles to complement your figure.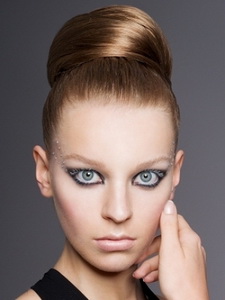 Now there are good options that you can find like straight, wavy, celebrity hair styles. Updo is one of the most classic and popular wedding hairdos, because of the change of time; you can find many good ways to make your beautiful bridal hairstyles as well. If you want to have a classic yet unique hairstyle, place your hair one side. Half updos, hair down styles, ponytail hairstyles or braid styles are other beautiful haircuts to make hair long or short wedding hairstyles.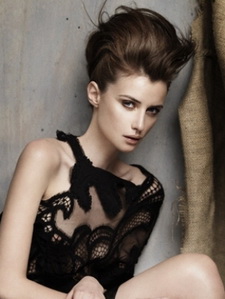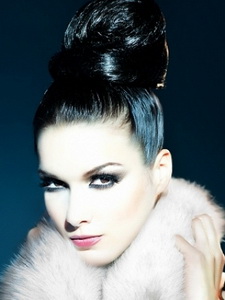 Updo Hairstyles
The length of your hair should at least touch your shoulder in order to make a beautiful up hairstyles for your big day, for it's not easy to make a bun with shorter hair. Don't let it get you down, you can choose wear hair extensions to make your hair long to make updos for short hair. No matter you are a girl with curly, wave or straight hair, the updo haircuts can fit you. Chignons and French bun styles are classic and modern among the updos. Also wearing it as side wedding updos are good ideas. You need to side party your hair, comb your hair back and place the bun or chignon near one side and around the nape of neck, and place a small detail, opposite to the side the bun behind the ear, in order to have a side hairdo for wedding.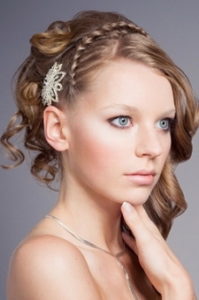 Half Updos
Half updos are good hairstyles for brides with short hair. Also, if you want to have casual weddings and have medium length or long hair, they can work well with you. In order to make wedding hairstyles, you should begin with straight or wavy hair. Comb the hair if the hair is straight and just need to scoop the wavy or curly hair back. Next step, place the top half hair in a bun at the back of the crown, and take out few strands and set them on shoulder to make a romantic appearance. To soften your look, take out some bangs. Half updos can work well with bridesmaids as well.